Morning cafe tour
Category


Warning: Invalid argument supplied for foreach() in /home/siri/tsuruga-adventure.com/public_html/wp-content/themes/siri/single.php on line 20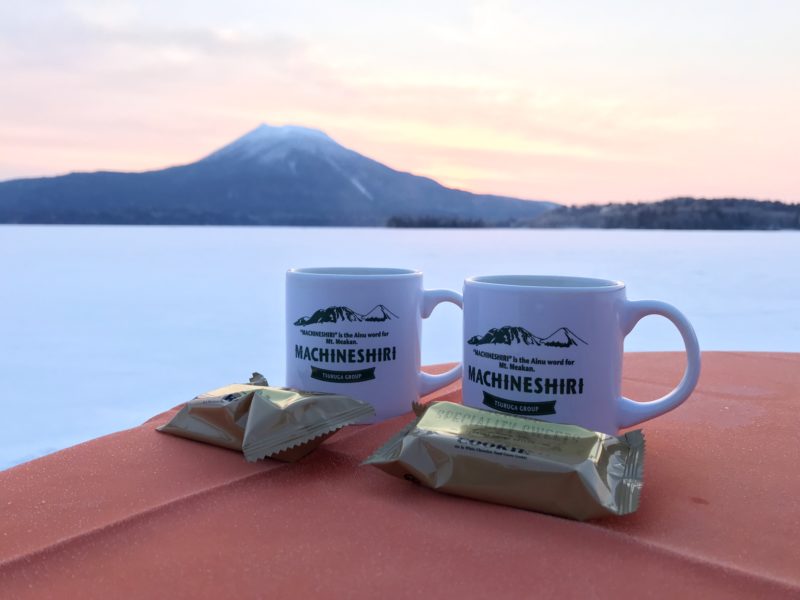 Indulge in a picturesque morning at the prime vantage point to admire the captivating beauty of Lake Akan and Mount Oakan while sipping your morning coffee. Enveloped by the crisp air and the dynamic winter landscape painted by the frozen lake, revel in a splendid morning in Akan. Please note that this tour does not focus on observing frost flowers, and we appreciate your understanding in this regard. In most years, frost flowers are rarely visible in March. Additionally, it's not uncommon for temperatures to drop below -20°C, so we recommend dressing warmly when you join us.
Activity details
Price
1 adult:¥5,500 tax included
Duration(From gathering time to disbandment)
Approx.1.5hours
Season
December 1st - March 31st
For ages
5and up
Participation requirements
◆Clothing:Comfortable clothing (long-sleeved shirt, long pants), a hat, Athletic shoes or boots that are easy to walk in(A rental service is available, but the sizes are limited. Rental fee: 1,100 yen tax included)
◆Items:Waterproof jacket and pants(A rental service is available, but the sizes are limited. Rental fee: 2,200 yen tax included), an outer garment for cold weather (such as a fleece jacket, etc.), portable snacks and drinks to eat and drink during the activity, binoculars (not a requirement but would make the activity more enjoyable) Click to enlarge
Number of people who can sign up
1 to 8 people
Reservation deadline
By 5:00 pm the day before
Payment methods
Payment is accepted only at the venue.
Regarding cancellation / changes
* Please give advance notice if you become unable to participate in the program.
* A fixed cancellation fee will apply when cancellation is made by the customer.
* Cancellation fees: 7 to 14 days prior: 10%. 2 to 6 days prior: 30 %. 1 day prior: 50%. Same day: 100%.
Meeting place
Meeting place
Lake Akan Tsuruga Wings 1F
TSURUGA ADVENTURE BASE [SIRI]
Meeting time
Between 5:40 AM and 6:20 AM *Meeting time varies based on sunrise.
Location
Lake Akan's Frozen Surface
Starting time
Meeting Times:
From December 1st to January 31st: 6:20 AM
From February 1st to February 15th: 6:00 AM
From February 16th to February 28th: 5:50 AM
From March 1st to March 31st: 5:40 AM
Price

Adults

¥5,500 tax included
Duration

Approx.

1.5

hours
Season

December 1st - March 31st
Reservation deadline

By 5:00 pm the day before