Early Morning Drive & Walk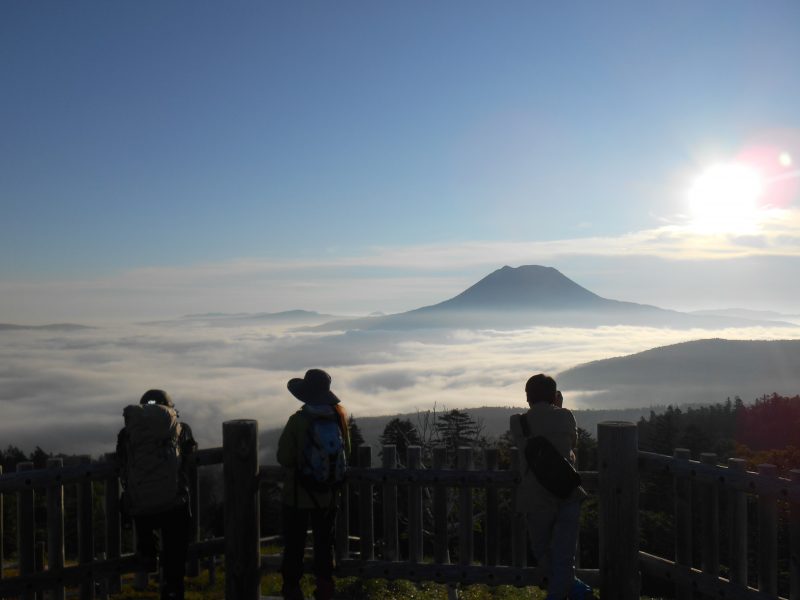 Come and enjoy an easy early morning drive and walk in the phytoncide-filled forests and mountains of Lake Akan! With luck, you might catch a glimpse of Lake Akan's "sea of clouds," or a panorama of Mt. Oakan and Lake Akan!
Activity details
Price
1 adult:¥5,500 tax included
Duration(From gathering time to disbandment)
Approx.1.5hours
Season
June to October
For ages
5and up
Participation requirements
◆Clothing:Comfortable clothing (long-sleeved shirt, long pants), a hat, Athletic shoes or boots that are easy to walk in(A rental service is available, but the sizes are limited. Rental fee: 1,000 yen)
◆Items:Waterproof jacket and pants, an outer garment for cold weather (such as a fleece jacket, etc.), portable snacks and drinks to eat and drink during the activity, binoculars (not a requirement but would make the activity more enjoyable) Click to enlarge Click to enlarge
Number of people who can sign up
1 to 8 people
Reservation deadline
By 8:00 pm the day before
Payment methods
Payment is accepted only at the venue.
Regarding cancellation / changes
* Please give advance notice if you become unable to participate in the program.
* A fixed cancellation fee will apply when cancellation is made by the customer.
* Cancellation fees: 7 to 14 days prior: 10%. 2 to 6 days prior: 30 %. 1 day prior: 50%. Same day: 100%.
Meeting place
Meeting place
Lake Akan Tsuruga Wings 1F
TSURUGA ADVENTURE BASE [SIRI]
Meeting time
Changes depending on what time the sun rises.
Location
Lake Akan
Starting time
4:00 AM - 6:00 AM * Please inquire regarding meeting / starting times.
Price

Adults

¥5,500 tax included
Duration

Approx.

1.5

hours
Season

June to October
Reservation deadline

By 8:00 pm the day before